Tape seal mailers
Tape seal mailers are compatible with both laser and inkjet printers. They are produced as an A4 mailer which is sealed by hand using tapeseals positioned on three sides of the form.
Simply print your message onto the tape seal mailer using your laser or inkjet printer, peel the tapeseals off, fold it in half and press to seal. The recipients address can be seen through the acetate window, so it is ready to distribute without the need for envelopes. The recipient of the mailer simply tears along the perforated edges to open.
Plain or printed mailers
Tape seal mailers can be supplied plain or printed. We do keep plain tape seal mailers as a stock item, ready to send out on a next day delivery. However, We can also manufacture and supply printed bespoke tape seal mailers to your specific requirements.
Applications for tape seal mailers include:
Pay Advices, Registration Forms, Questionnaires, Statements, Remittance Advices, Membership Renewals, Letters / Mailings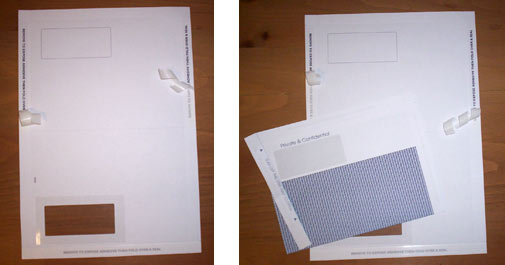 Orders & Enquiries
For a quotation for your tapeseal mailers, simply let us know how many you would like to order, print colours (or plain) and whether you will be supplying artwork or would like us to do it for you. Once your order has been placed and we have artwork approval, your tapeseal mailers will be delivered to you in approximately 10 working days. (This will depend on the complexity of the job and the quantity ordered).
If you would like to know more about how tape seal mailers work or for a quotation, please email us or fill in our enquiry form. We can also provide you with free samples of tapeseal mailers on request. Alternatively, you can call us on 0115 949 1880