P60 mailers
Our P60 mailers are compatible with both Sage and Pegasus payroll software. They are very easy to use: Just write, type or print your information onto the form, press around the edges to seal and post them out. There is no need for an envelope. The marble hatching on the reverse allows for complete privacy.
Sage and Pegasus software compatible
- No need for an envelope
- Minimum order quantity applies
- A sample P60 is available on request
- Available from January - April
- Call us for pricing
Authorised P60 substitute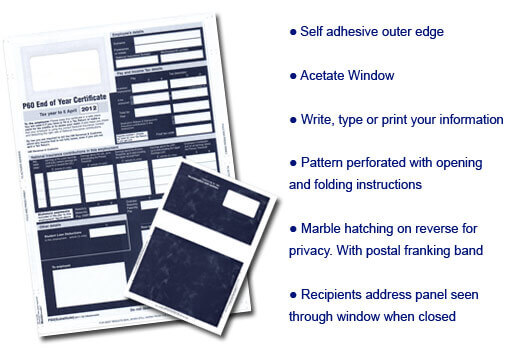 *DESIGN IS SUBJECT TO CHANGE*
You have to provide all your employees with a P60 when you submit your P14 electronically at year end. P60's are available as a pressure seal form or as a self seal form.
Orders & Enquiries
If you would like FREE samples for testing or a quotation, please email us or fill in our enquiry form. Alternatively, you can call us on 0115 949 1880